Medi-Thin Day, by Nature's Gold review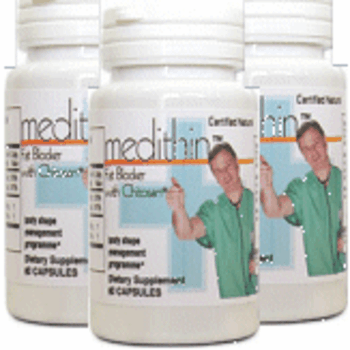 Medi-Thin Day, by Nature's Gold
ACTION: Stimulates metabolism.
SOLD AS: Caplets.

INGREDIENTS: Each caplet contains ephedra, 150 mg; guarana extract, 90 mg; kola nut extract, 90 mg; garcinia cambogia, 60 mg; white willow bark, 50 mg; Siberian ginseng extract, 50 mg; bladderwrack (kelp) extract, 50 mg; licorice root, 50 mg; St. John's wort, 15 mg; chromium chelate and chromium picolinate, 400 meg; C-carnitine-and-lcarnitine and green-tea extract.
HOW TO TAKE IT: Information not provided by manufacturer.

WHAT IS IT SUPPOSED TO DO: The ephedra, guarana, kola nut, white willow bark, ginseng, and bladderwrack stimulate the metabolism; garcinia suppresses the appetite; St. Johns wort is a mild sedative and Appetite suppressant; chromium reduces sugar and carbohydrate cravings; licorice aids digestion; C-carnitine-and-lcarnitine helps convert stored fat into energy; and green tea is a diuretic and a metabolic stimulator.

COMMENTS: This supplement consists of ephedra, that is linked with critical side effects, including death. It also contains two caffeine-containing substances, guarana and kola nut. This three-herb mixture will probably cause anxiety, insomnia, agitation, and other adverse reactions. This product shouldn't be used by people younger than eighteen, pregnant or breast-feeding women, or anyone who has a medical condition. If you have diabetes and are taking insulin or any antidiabetic medications, seek advice from your physician before taking this or any product that contains chromium. Chromium has the ability to lower insulin resistance, alter the type or amount of medication needed to control diabetes, and change the frequency with which blood-sugar monitoring should be done.