Super Dieters tea – Laci Le Beau tea review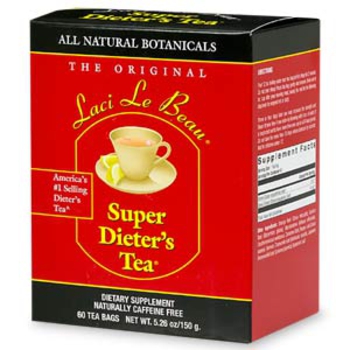 Super Dieters tea – Laci Le Beau tea review
ACTION: Laxative.
SOLD AS: Tea bags.

INGREDIENTS: Each bag contains senna leaves; orange peel; licorice root; althaea; Siberian ginseng; papaya; honeysuckle; chamomile; and spices. This product does not contain caffeine; sugar; yeast; artificial colors, flavors, or preservatives.

HOW TO TAKE IT: The package directions advise pouring 16 ounces boiling water over 1 bag and allowing it to steep 2 minutes. A typical dose is 1 cup hot or cold after the evening meal; the second cup can be saved for the next evening. After 3 or 4 nights the manufacturer suggests increasing the flavor by using 8 ounces boiling wafer per bag.
WHAT IS IT SUPPOSED TO DO: This, tea aids weight loss when used as instructed.

COMMENTS: This tea contains senna, an effective healthy laxative that is suitable for alleviating extreme constipation, not weight loss. Whether this product consists of an amount of senna that can trigger side effects is not sure. If you go on to is product, use it as guided: Do not drink more than 1 cup daily or , use it if you have diarrhea, loose stools, or abdominal pain. Talk to your doctor if you are pregnant, breast-feeding, taking medication, or have a medical problem prior to using this product.