Thermojetics tea and herbal concentrate review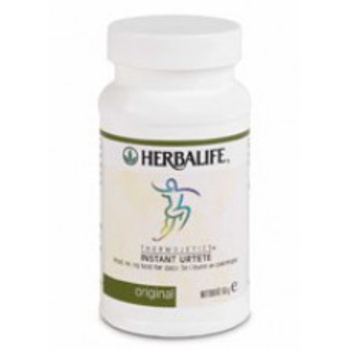 Thermojetics review – Thermojetics tea and herbal concentrate for weight loss
ACTION: Meal-replacement program with nutritional and metabolic support.
SOLD AS: The program consists of Formula 1 (French Vanilla, Dutch Chocolate, Wild Berry, and Tropical Fruit); Formula 2 tablets; Formula 3 capsules; TJ Green tablets; and TJ Beige tablets.

INGREDIENTS: Formula 1 protein drink is a specially formulated blend of soy proteins; vitamins; minerals; carbohydrates; and herbs. Formula 2 contains vitamin A and beta-carotene, 5,000 IU; vitamin Bl' 20 mg; B2, 25 mg; B6, 30 mg; niacinamide, 100 mg;B12′ 5 meg; pantothenic acid, 20 mg; vitamin C, 150 mg; vitamin D, 400 ill; vitamin E, 30 ill; folacin, 400 meg; biotin, 300 meg; and more than 20 other nutrients. Formula 3 is a proprietary formula of potassium; magnesium aspartate; boron; silica; molybdenum; vanadium; gamma oryzanol; L-glutamine; chlorophyll; and pycnogenol. TJ Green tablets are a proprietary blend of ephedra, bladderwrack (kelp); yerba mate; valerian root; purple willow; fumitory herb; also papain and coating color FD&C Blue no. 1 Lake. TJ Beige tablets are a proprietary blend of hawthorn berry; cascara sagrada; uva ursi; alfalfa; corn silk; parsley; marshmallow root; magnolia bark; pau d'arco; pfaffia paniculata; astragalus; fennel; goldenrod; and licorice.
HOW TO TAKE IT: The Herbalife Thermojerics Quick Start Weight Management Program is a comprehensive package designed to work together. According to the manufacturer, Formula 1, the Protein Drink, replaces 2 meals per day; Formula 2 suggests taking 1 tablet 3 times a day with meals; Formula 3, Cell Activator, is also taken 3 times a day-l to 3 capsules with meals; and the TJ Green and TJ Beige are taken daily as needed to support the rest of the program.

WHAT IS IT SUPPOSED TO DO: The research documents state the Protein Drink Mix provides 9 grams of protein per serving, all the essential amino acids, helping you feel full so you won't crave junk and processed foods. It also consists of the breakthrough enzyme technology, Aminogen®, which works to enhance assimilation of dietary protein. Formula 2 is billed as Herbalife's maximum formula multivitamin-mineral and herbal health supplement which will help rejuvenate a body that is faced with the assaults of poor eating habits, environmental toxins, and stress. The 39 vitamins, minerals, and Chinese herbs interact to generate a foundation for long-term well being. Formula 3 was created to improve the absorption of the vitamins and minerals you get through your diet. It also contains special trace elements that are active in the Krebs cycle-a complex combination of enzyme-catalyzed reactions in the body's cells which involve the oxidation of carbohydrates, proteins, and fats. The TJ Green and Beige tablets were specified for to help "produce an appealing energy balance so excess body fat may be decreased."
COMMENTS: This weight-management program depends on shakes and tablets and does not promote healthy, lifelong eating habits. This system is ideal for fast weight loss, but sustaining the loss often proves difficult once people stop the program. Therefore, although most people do lose weight while on the plan, they generally regain it once they stop. The TJ Green and Beige Tablets contain an undisclosed quantity of ephedra, that has been related to serious side effects, including death. In addition they consist of unidentified amounts of cascara sagrada and uva ursi, each of which may cause severe complications, and neither one of these is beneficial for losing weight.