Tonalin cla 750 mg review by Natrol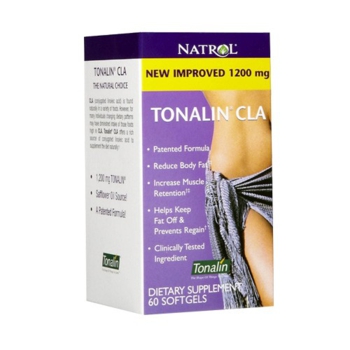 Tonalin cla 750 mg review by Natrol – Natrol cla supplement
ACTION: Reduces body fat.

SOLD AS: Softgels.

INGREDIENTS: One softgel contains Tonalin® (60 to 70 percent CLA), 750 mg; chromium picolinate, 75 mcg; capsicum(cayenne), 100 mcg; gingerroot, 100 mg. Other ingredients include beeswax; soybean oil; gelatin; and lecithin. This product does not contain eggs or glutens.

HOW TO TAKE IT: The package directions suggest taking 1 to 4 softgels daily, preferably with low-or nonfat milk for maximum protein absorption. Protein-fortified soymilk also can be used.

WHAT IS IT SUPPOSED TO DO: Conjugated linoleic acid supposedly cuts down body fat, chromium picolinate decreases cravings helping to reduce body fat, cayenne stimulates metabolism, and ginger aids digestion .. Natrol states that a lot of research conducted at the University of Wisconsin show that CLA could be crucial in reducing body fat and increasing muscle tone. Natrol's Tonalin cla is the only patented form of CLA.
COMMENTS: In spite of Natrol's statements about CLA, virtually all research has been done in animals; thus, trustworthy scientific evidence to compliment its claims are lacking. For those who have diabetes and are using insulin or any antidiabetic medications, consult with a doctor of medicine before taking this or any product that includes chromium. Chromium can lower insulin resistance, alter the type or amount of medicine required to manage diabetes, and modify the frequency with which bloodsugar monitoring should be performed.