SlimFast weight loss shake review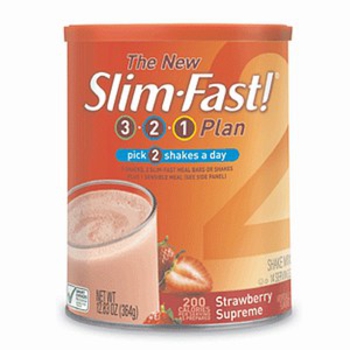 SlimFast weight loss shake – Slimfast shakes review – Buy slimfast diet plan
ACTION: Meal replacement.
SOLD AS: Liquid shake can. It comes in flavors: chocolate royale, dark chocolate fudge, fresh vanilla, milk chocolate, orange pineapple, strawberry & cream.
INGREDIENTS: The ingredients listed here are for the Chocolate Royale flavor; however, the content of the other flavors is very similar: skim milk'; water; sugar; fructose; cocoa (processed with alkali); gum arabic; cellulose gel; calcium caseinate; vegetable oil (contains one or more of the following): canola oil or partially hydrogenated soybean oil}; potassium phosphate; dextrose; soybean lecithin; cellulose gum; mono and diglycerides (emulsifier); carrageenan; modified cornstarch; artificial flavor; maltodextrin; vitamins and minerals; magnesium oxide; calcium phosphate; vitamin E acetate; niacinamide; sodium ascorbate; calcium pantothenate; zinc oxide; manganese sulfate; thiamine mononitrate; pyridoxide hydrochloride; vitamin A palmitate; riboflavin; folic acid; biotin; potassium iodide; sodium molybdate; chromium chloride; phylloquinone (vitamin K1); sodium selenate; vitamin B12; vitamin D.
The nutritional content is as follows: total fat, 3 g; saturated fat, 1 g; cholesterol, 5 mg; sodium, 220 mg; potassium, 530 rng; total carbohydrates, 38g (fiber, 5 g; sugars, 33 g); protein, 109. All of the vitamins and minerals are present at 35 percent of Daily Value except for the following: vitamin K, 25 percent; folic acid, 30 percent; calcium, 40 percent; zinc, 15 percent; and selenium, 25 percent.

HOW TO TAKE IT: The package instructions recommend replacing 1 or 2 meals each day with a shake, then eating sensibly the rest of the day.

WHAT IS IT SUPPOSED TO DO: To keep slim, replace 1 meal per day, walk or exercise 30 minutes per day, and eat smartly, which includes lots of vegetables and fruits. SlimFast is promoted as a well balanced meal that includes 23 vitamins and minerals. Each shake contains 220 calories. The package records that instead of a meal, many people use one can of SlimFast, a piece of fruit, and a noncaloric beverage.

COMMENTS: This product can help with losing weight and maintenance if it is used as guided. Do not use SlimFast as your only source of nutrition.In case you are younger than eighteen, pregnant, breast-feeding, have health problems, or you want to lose more than 30 pounds, please talk to your doctor before beginning this or any other diet system. This product does not contain caffeine, preservatives, drugs, or chemical stimulants.