SeroThin by Natural Balance review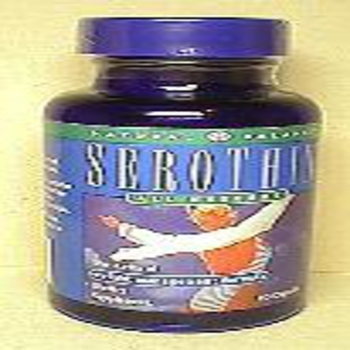 SeroThin by Natural Balance
ACTION: Controls cravings.
SOLD AS: Capsules (gelatin).

INGREDIENTS: Vitamin- B6, 7.5 mg; vitamin Bs (pantothenic acid), 10 mg; chromium, 200 meg (as Dyna Chrome'P! Chromium, a trademarked chromium arginate/chelidarna te]; L-phenylalanine, 100 mg; tyrosine, 100 mg; St. John's wort, 50 mg; rhodiola, 50 mg; citrus aurantium, 20 mg; 5hydroxytryptophan, 15 mg. Inactive ingredients include gelatin, cellulose, and magnesium stearate.
HOW TO TAKE IT: The manufacturer recommends taking 2 capsules 2 times daily with water, on an empty stomach.
WHAT IS IT SUPPOSED TO DO: SeroThin supposedly minimizes cravings and relaxes the nerves. The two chromium and L-phenylalanine are believed to cut back appetite, while chromium will also help in reducing sugar and carbohydrate yearnings. Citrus aurantium stimulates metabolism, 5hydroxytryptophan produces early satiety, and St. John'S wort has a soothing effect.
COMMENTS: There is no solid medical research on this product that supports the promises of the manufacturer. The dosage of 5hydroxytryptophan (60 mg daily) is less than the 150 to 300 mg or more proven to produce satiety, and the dosage of St. John's wort (150 mg) is far less than the 900 mg demonstrated to improve anxiety and depression. Prior to taking SeroThin, talk to your doctor if you are pregnant, breast-feeding, taking MAO inhibitors or any prescription medications, or if you have any condition. This product is not for people younger than age eighteen. If you have diabetes and are taking insulin or any antidiabetic medications, seek advice from your physician before taking this or any product that contains chromium. Chromium is able to lower insulin resistance, modify the type or quantity of medicine required to control diabetes, and alter the frequency with which blood-sugar tracking should be done. People who have the rare metabolic disorder phenylketonuria should stay away from this product.